The exterior of Cosmos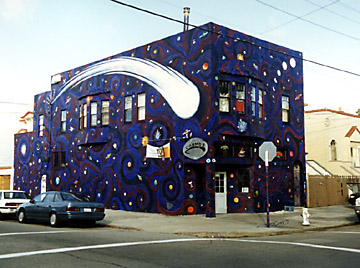 On December 8 and 15th, 1999, there was experimental music at Cosmos, a bar in the Mission District of San Francisco. here are some realaudio clips from the first show:

some photos from both shows. The original press release for the show:
---
FOR IMMEDIATE RELEASE
Detritus
presents
2 Nights of Electronic Entertainment
at
Cosmos
Tuesday, December 8 and 15, 9:00 pm
Come to Cosmos, the new space-age neighborhood bar at 21st and Bryant, San Francisco and witness live performance sound collage with film/video accompaniment, featuring:
December 8:
Illegal Art recording artists STEEV HISE and MR. MERIDIES
December 15:
General Injectibles & Signals content provider WOBBLY and visiting from England, PEOPLE LIKE US with special guest Peter Conheim of Mono Pause
for more details, sound samples, and photos, see http://detritus.net/events/cosmos, or send us email.

Details about the performers:
---
DETRITUS is an online resource center located at http://detritus.net, focused on the artistic reuse of culture and collage in all media. It is intended as both community gathering place and scholarly clearinghouse, a place for those who create and study appropriation art to learn and share.