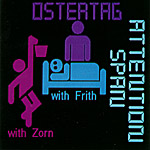 ---
Click here to buy this CD from Seeland (ships from the US)
---
Bob Ostertag with Fred Frith and John Zorn
1990. Re-released 2001.
"This recording is the direct precursor to Say No More. Here I also began with solo recordings, one by John Zorn and the other by Fred Frith. But instead of performing improvisations they merely recorded an "inventory" of the sounds they make.
The cd is divided into halves. Slam Dunk is a series of 26 extremely short solos which I performed using only the sounds of John's sax. In Sleepless I use Fred's source material, but instead of playing solo I brought him back into the studio and we played duos, but with me only using his own guitar sounds.
The development of digital sampling in creative musical directions is currently constrained by legal restrictions often imposed by huge corporations who view music more as property than creative process. In this project, I was thus fortunate to have Fred and John's collaboration, who gave me complete freedom in my use of their material. John and Fred play highly personalized, idiosyncratic music. I have not only used their sounds as my building blocks, but have also tried to shape these two pieces in ways that pay respective tribute to their musics as a whole."
-- Ostertag liner notes, 1990
Sample master Bob Ostertag follows the challenges of his chosen technology much farther than most. He intentionally uses limited sound sources. For "Slam Dunk" he deal with manic sax improvisation by John Zorn, for the mother , more moderate segment, "Sleepless," guitarist Fred Frith provided both the original sample source and after-the-fact duets while Ostertag 'played' Frith samples. Armed with this raw sound putty, Ostertag proceeds to reconfigure the existing materials into new forms. Zorn is served up frenetic doses of his own medicine. The lugubrious beauty of Frith's 'Drowning Offshore' bears distant aural resemblance to the electric guitar, but for the eerie metallic sheen.

-- Option, July/August 1991

Bob Ostertag is a pioneer in the world of electronic music. His experiments make most of today's synthesizer and computer music seem like kindergarten child's play.

-- Oakland Tribune on Attention Span, March 31, 1991