CDs: Say No More 1, 2, 3 & 4

Mark Dresser - contrabass
Gerry Hemingway - percussion
Phil Minton - vocals
Bob Ostertag - sampler
Joey Baron - percussion
Box Set: Say No More Volumes 1 & 2

Click here to buy this CD from Seeland (ships from the US)
Bob Ostertag writes:
I began the Say No More project by asking each player to record solo improvisations, separately, with no communication with each other nor instruction from me. I then took the resulting tapes and, using a digital editing system, broke the solos into fragments and assembled a "band" piece by piece from the splinters. The resulting tape became the first Say No More cd (1993), including the compositions Say No More and Tongue-Tied. This is probably the first group in the history of music to release a cd without having played a note together, or even met.
I then created a highly unorthodox score of these compositions I had created on the computer using the solo improvisations as sources. I gave both the parts and the computer-generated tape back to the musicians, instructing them to learn their parts. The result was Say No More as a performance ensemble, and the Say No More in Person cd, recorded in October 1993 at ORF-Vienna. It features the compositions from the first cd, but in their transformed, concert rendition.
Box Set: Say No More Volumes 3 & 4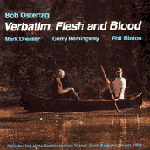 Click here to buy this CD from Seeland (ships from the US)
Next, I put the live recording back into the computer, blew it into bits once again, and assembled a new composition, Verbatim, out of the debris. The group premiered the live version of Verbatim at the Taktlos Festival in March 1996 in Switzerland, ,and the which was released in 1997.
Finally, I created a score of Verbatim, and the live group toured it extensively and recorded the concert version, Verbatim, Flesh & Blood, in Gent, Belgium in January 1998. This is the last CD in the series, the culmination of seven years of work.
---
My interests in this project were several. First, it allowed me to apply the compositional techniques common to musique concrete (sculpting and shaping a composition in the actual audio medium) to the work of composing for live ensemble.

Second, I was interested in creating a new sort of bi-directional flow between composer and instrumentalist, in which the result of one's work immediately becomes the raw material of the other's.

Finally, I wanted to use technology to alter the relationship between the instrumentalists and their own music. Each musician was asked to learn parts derived directly from his own improvisations. In effect I was sitting each player down in front of a mirror image of his own music. But the mirror was curved into prisms and lenses which were the results of the transformations I had made in the process of creating the "band" from the original solos.
"Thoroughly attuned to life in the mid-90s, [Say No More] is more than an experiment and much more than merely sensational. Astonishingly, the music never seems artificial. With acute sensitivity, Ostertag catches the strengths of his partners and lifts them up to a new level, magnifying the skill and intensity of these extraordinary virtuosos. The border between live improvisation and computerized manipulation blurs and if finally made irrelevant by the music which results."

                                        -- Jazzthetik  (Germany)

"A trip into another dimension of music, and into a world as full of clashes and conflict as the one in which we live."

                                        -- Forum  (Germany)