Promotional Materials: Yugoslavia Suite
Documents.
All the following documents are in PDF format, which downloads quickly and reads equally well on Mac or PC computers. You may require Adobe Acrobat Reader to read them If you do not have Acrobat Reader, click here to jump to Adobe's web site and download it for free.
Click on the read text to open the described materials, then click and hold to download.
Program Notes: Program notes from the original tour of the Balkans, October 1999.
Tech Rider: technical requirements for producing a Yugoslavia Suite concert.
Photographs

Click on the images to view enlarged version. Then click and hold to download. These are high-resolution press-quality scans, so the download may take a while depending upon the speed of your internet connection.

Note that if you are getting photos to supply to press, you need never print it out yourself. Simply download the files and email them to press production. Or better yet, simply refer the press people to this web page.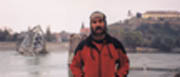 Bob Ostertag at bridge in Novi Sad destroyed by NATO bombing.